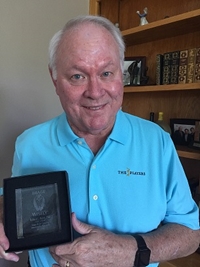 The Image Wisely campaign bid farewell to co-chair Richard (Rick) L. Morin, PhD today. He retired from practice at the Mayo Clinic in Jacksonville earlier this year and has been gradually stepping away from his other professional extracurricular activities. Rick's term on Image Wisely ended on May 31 when he was succeeded by Beth Schueler, PhD of the Mayo Clinic in Rochester.
Dr. Morin was involved with the Image Wisely radiation safety campaign at its inception in 2010 and served in a variety of roles culminating in his appointment as co-chair in 2011. His contributions to Image Wisely are too numerous to name individually, but it should be noted that his leadership was integral in developing the nuclear medicine and fluoroscopy campaigns, and he instituted the JACR Radiation Sensibilities column then served as its co-editor for two years.
Rick's knowledge and experience, his unfailing goodwill, fellowship, and positive attitude helped establish the character of the Image Wisely Executive Committee and made working with him a genuine pleasure. We offer Rick a profound 'thank you for a job well done' and our best wishes for a happy and fulfilling retirement.